Abstracts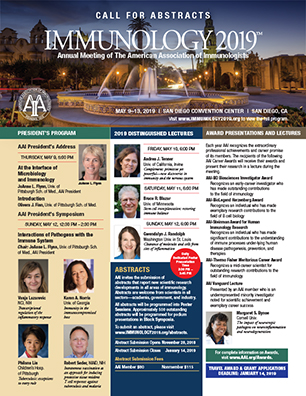 AAI invites attendees to submit abstracts of unpublished, original research for presentation at IMMUNOLOGY 2019™. All abstracts will be reviewed by committees of experts in their respective areas and scheduled for presentation. Outstanding regular abstracts submitted by January 14, 2019, will be selected for oral presentation in Block Symposia (oral presentations of abstract data).
Posters are the most dynamic aspect of the AAI annual meeting! Meet abstract authors for face-to-face discussions and learn about their most recent research.
Block Symposia are two-hour symposia consisting of short oral presentations of those abstracts that are deemed to be the best in each topic category. First authors have the option of requesting 'Oral and Poster' or 'Poster Only' when submitting their abstracts. Up to 40% of the submitted abstracts will be chosen to be presented in these symposia.